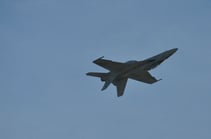 We think that the days of long-term succession plans are over: it's no longer realistic to think in terms of, say, a five year succession plan - and it's no longer practical to think that talented people will wait around, biding their time in the organisation until a post comes up.
The problem is not only is it almost impossible to determine what you are looking for in people for five years' time but also today's talented employee is all about planning his or her own career. They know what they want and are happy to move on to acquire skills and experience to add to their portfolio of skills. They're not going to hang around.
So if long-term succession plans aren't working, what do organisations do?
We think there is a new analogy for succession plans of today - and one we can learn from.
We see effective succession plans as being somewhat similar to how air traffic controllers operate when guiding a plane to its final, agreed destination.
Think about it.
Air traffics controllers don't try and control the plane at every step of the journey but set it off in a sensible direction, monitor it closely, pass over responsibility between air traffic controllers until the plane reaches the 'final approach' when local factors come into play such as its heading and speed. If needed, the plane can land elsewhere.
We believe that a succession plan certainly has the ideal destination role in mind. Those on this path are monitored, tracked, guided and supported and, if market conditions change, the final destination role may indeed change.
Such an approach meets the needs of the talented individual and a changing organisation. But it also creates a new challenge: the line manager is thrust into the spotlight. He or she now needs to guide, support, mentor the talent in the team, passing it on to other line managers as the career develops.
The next challenge is, of course, are line managers ready and able to cope with guiding their talent towards their final destination?
Want to know more about how to introduce robust succession planning?
When you are ready to see for yourself how succession planning software can help you answer the difficult talent planning questions, do get in touch.