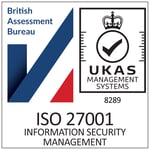 Head Light is pleased to announce that followed an audit we have once again passed and been awarded the ISO 27001 certification for Information Security Management.
Achieving this internationally recognised certification is a clear demonstration of Head Light's commitment to information security, data protection and continuous improvement.
Ian Lee-Emery, CEO and Founder of Head Light comments, "We're pleased that the robust systems we have in place coupled with the ongoing process of reviewing and enhancing them in the light of recommendations in the ISO27002 framework has been recognised in this audit. Protecting our clients' data is a key priority so our customers are confident that we have the highest standards in information security management.
ISO certification is a recognition that we reached the necessary high standard in hosting of customer data and in ensuring robustness and security of our development process, vetting of staff and in managing threats and vulnerabilities across our supply chain."
ISO 27001 is an internationally recognised information security management standard which ensures organisations apply a framework to business processes to help identify, manage and reduce risks to information security.
Ian Lee- Emery continues, "We work with organisations across the private and public sectors and gaining this accreditation will continue to support us as a G-Cloud supplier and meet the high standards now expected of all those that handle personal data."
For further information, contact us.