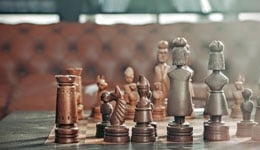 A New Year always comes with a plan. Typically it will include a raft of things that need to be achieved in the coming year but also has some of those 'where-to-start?' projects that you know are important but in reality you don't really know how to take the first step of wary that it'll consume too much time! Your Talent Management approach may be one of those such projects.
The thing is, without a doubt, your organisation will be in a different place than it was 12 months ago, and you'll have different recruitment, development, performance review succession and employee engagement needs. And your overall Talent Management strategy needs to keep pace with your business strategy for it to remain relevant.
Many of our conversations in the past few months reflect this. We're hearing that perhaps new strategies and related competencies are needed but they're not yet feeding into recruitment plans or L&D activities. Or there's an acquisition on the cards but it's not yet filtered down into how you'll be merging the cultures and policies or what you intend to do about succession planning.
Maybe it's time to revisit and refresh your approach to Talent Management – or at least review it and actively decide that nothing needs to change! Perhaps you don't yet have a cohesive talent Management approach in place, but can see the benefit of drawing your talent management activities together, building on each other and sharing relevant people data.
Wherever you are on this talent management journey, we think you'll find our series of white papers a useful resource for you to download, read through, highlight key areas and take the bits you need.
But we don't want to overload you with content.
So, why not sign up for the initial sections of Part One of the series and then, if you like what you read, you can choose to then request the other two parts to be sent to you.