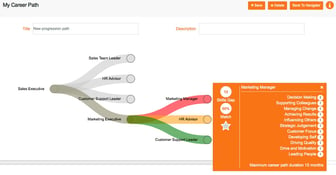 It can be tricky for managers to have career conversations with their teams about progression in the organisation.
We hear from our clients that often managers know that they need and indeed many want to do this – but they just don't have the data or information to feel prepared for this.
They're left trying to build a conversation with very little support.
They tend to talk in different levels of detail about different roles depending on what they feel most comfortable with. For a start, they can talk about what the person is interested in doing – or their preferences – which may begin the conversation but may not take them very far. It's a conversation based on little substance.
Or managers may focus the conversation on the facts of qualifications and training needed for a specific job role. But a more valuable conversation is one in which both manager and individual understand the possible career paths and look at the skills or competencies that need to be acquired and talk through how to gain these to make the next career move; they talk about various options and perhaps less traditional career paths.
If you want to help managers to have career conversations which are better informed and in which employees start to think about their careers whether it is a next step upwards, or sideways move, or looking at the qualification needed or the experience and competencies acquired, or you want them to have a conversation about mobility and the trajectory for reaching specific roles, then you need to find a way of filling the vacuum of 'no information'.
And all this can be done through our sophisticated and yet straightforward and user-friendly Talent Navigator tool. Take a look to see how an employee can get started.
Of course, before your employees can get going, there's a commitment you as an organisation need to make.
You'll need to produce accurate and up-to-date role titles, role descriptions and include the relevant competencies needed. You may need to look at how skills and competencies are acquired – and how long a person takes to reach competence in a role.
But the reward is great. Showing an employee a realistic and mapped out career route with your organisation does three things.
It gives your people the opportunity to 'try out' different career paths. It shows them how these could progress and the ultimate role destination – and they can change and add in different career paths however they wish – and the skills and competencies needed for this and the stepping stone roles.
It demonstrates the commitment you have as an organisation in helping your employees to progress and develop with you.
It gives you more data and information to support your employees and future development needs.
If you'd like to talk more about how Talent Navigator® could help your managers to have career conversations, then do get in touch.