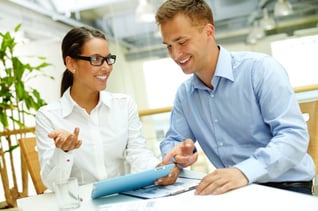 Whether you are introducing 360 degree feedback for the first time in your organisation or updating a current 360 process, investing effort to get buy-in and support from stakeholders leads to stronger engagement from the important line manager population.
So, spend the time to identify these key stakeholders, explain the process, and outline the outcomes and impact on the business.
Here are the 8 things to think about when introducing 360 degree feedback for the first time.
1. Identify the senior stakeholders for 360 in your organisation.

To do this you'll need to identify your 'targets' – and use your networking and influencing skills to engage. Pinpoint the people you need to reach, list them and then arrange face-to-face meetings with each one of them early on in the project to explain what it is you want to achieve, how it will impact the organisation and the timeline you propose. It will be easy to list the obvious senior stakeholders, but also take time to consider broader groups or associations with whom you need to engage.
2. Engage with these stakeholders by tailoring your message to them
When starting to talk with your stakeholders, position the 360 in terms which are specific to your organisation to help senior stakeholders understand and 'buy into' the planned activity.
For example, if the term 'talent management' is not a well-liked or used term, try selling a 360 positioned around succession planning. Provide an example to 'paint a picture' which highlights the importance of succession planning in your organisation. This may require you looking at the age distribution across the business and the retirement plans and by having 360 reviews in place, identifying the leaders of tomorrow and working with them to develop the skills needed is seen as a sensible succession planning activity.
In addition, more senior people may require a different approach as they may have quite differing views of 360; some more senior managers and leaders may not recognise the value of this for lower levels of staff. Furthermore, there will be different exposures to, and experience of, 360 amongst your audiences; you will need to understand, and build on these.
3. Make the implementation of a successful 360 review process an objective of one of the key stakeholders
A difficult action to influence but, when a senior leader has a vested interest in seeing the successful implementation and embedding of a process, the road will be smoother!
4. Build the case for 360
For some, you will need to demonstrate clearly the Return on Investment in adopting a 360 review programme. Head Light research has revealed that 46% prepared a business case to support their bid to obtain the budget needed – and 14% of those that did this, did so even though it was not required of them. 44% commented that whilst they did not prepare a business case, they thought it would have been interesting to go through this exercise.
Collect case studies and stories from organisations similar to yours and demonstrate the impact and benefits that 360 has had within your competitors' businesses or in other divisions or locations of your own business.
5. Take stock of where you are as an organisation
Before you start introducing 360 degree feedback for the first time, it may be useful to read the Head Light checklist - Ready for 360? Think Again - and understand how ready your organisation is to take on 360 degree feedback – and our view on what makes for a successful 360 programme.
6. Start small
Good practice suggests that your journey to adopt a 360 approach is smoother when you run an initial pilot study. This becomes even more beneficial if you use this as an opportunity to obtain buy-in from senior managers and focus the pilot around them. It is also a useful exercise to test and confirm the validity of your assessment.
7. Establish how often you will carry out a 360 review, with whom and a clear rationale for its purpose
Research what other organisations do, discuss with your team internally and take external advice if necessary. Typically, 360 reviews are carried out no more frequently than every two years unless you are looking at benchmarking and change. You may like to read out thoughts on this in another blog post.
To get the maximum value from an online 360 tool, consider the groups with which it can be used. The management and leadership population is usually the main target, but also consider your talent pools, key successors, customer-facing staff, graduates and business support groups. Make sure that the 360 software you adopt can manage different target populations. Take a look at our Talent 360 tool.
8. Communicate, communicate, communicate
Part of the success of the 360 programme will be based on the communication plan that you put in place and deliver. Consider using a variety of tools to get your message across remembering to tailor the message, language used and channel of communication appropriate to your audience.
You may want to consider:
Including an article about the benefits of 360 in your staff newsletter;
Utilising your Intranet pages;
Hosting 'all hands' meetings about 360;
Recording a webinar with a senior manager explaining process;
Preparing an FAQ document, covering all the questions and concerns raised through your discussions with stakeholders;
Amending induction materials to include your 360 approach;
Designing a timeline with key dates so that everyone understands the schedule.
Our Good Practice Guide for 360 degree feedback includes this and many other guidelines and tools which aim to help you as you're introducing 360 degree feedback for the first time. You can request your copy by clicking on the link below.