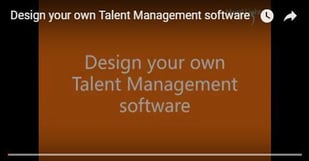 Your organisation is different. It's unique. You have your own way of doing things and you've wasted too much time looking at many HR and talent management software systems that just don't seem to be capable of reflecting your true organisation. Right?
We hear this often. And that's why we have chosen a different route to developing our talent management software.
With our Talent Cloud® you get something quite different.
We put you in control – with us getting involved as much or as little as you wish. We can be there to work with you, to challenge you, to support you you define your talent management strategy and the software needed. You can take our software and shape and design it to fit what you need as an organisation – and that customisation helps with the internal 'sell' and 'buy-in'.
However you want us to be involved, we think there are 5 key steps to shaping and designing your own talent management system and making it a system that impacts your business, your people, your organisation and you as a talent decision-maker.
Watch the video now.
Step One - Decide on the elements you need within your talent management system.
You may be thinking 360 degree feedback can help, or an online, always-available performance review system. The beauty of our system is that you can start in one area and then add others if you wish at another time – and all the data works together.
Step Two - Shape the system to fit it to your organisation.
Don't settle for software where you have to change your practices or ways of doing things to fit in with what a software vendor thinks you should be doing because that's the way the software is built.
Step Three - Trial it and get feedback.
The crucial stage so that tweaks to the software and the comms plan can be made.
Step Four - Engage managers and employees.
When it's time to deploy your solution into your company it will look like it's yours, work like it's yours, fit with your strategy and answer the 'what in it for me' question.
Step Five - Delivering the strategy, every day.
When you've got the system in place, you'll need to check the impact it's having. Think about gathering internal anecdotes and user cases - and don't forget to update your own CV as to what you've achieved.
And you can see how these 5 steps work out in our short video. Take a look now.