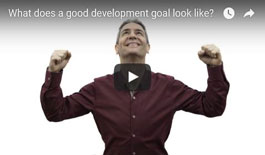 When writing business or role-based performance or objectives, encouraging your managers to also set one or two development goals or developmental objectives will help employees to grow, learn and develop.
But how do you write a good development goal?
Start by thinking about what's really important to help excel either within the current role, or to help prepare for a future aspirational role.
Perhaps they need to be set to ensure that employees keep up to date with changes in technology, competitor activity, innovation in your sector or new skills requirements.
They should be about more than just attending training programmes so take a look at more cost-effective development options and job-based learning opportunities such as stretch assignments, job rotations, online resources, lateral moves, coaching and mentoring.
Remember to encourage managers to refer to your organisation's competency framework to see how the objectives set might increase impact, performance and effectiveness.
Think about what 'really good' looks like in your organisation and how potential for more senior roles can be demonstrated.
When writing a development goal, you use the same principles as those used when setting business objectives - and the acronym STREAMS can be used to check how useful it is as an objective.
Take a look at this short video about writing development objectives and share with your managers.
When you'd like to talk more, just get in touch.