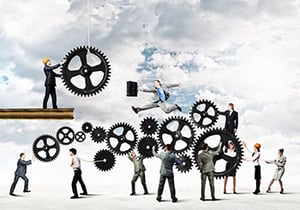 Succession Planning is not just about the people leaving the business and those coming up through the organisation.
You need a clear understanding about which are the critical roles for which you need a successor in place.
But how do you determine those critical positions?
Look beyond your 'leaders'
Critical posts are not just those leadership positions and you need to look beyond the management grades. Critical roles for succession planning also need to be those relating to customer interaction, or sales, or product development. Think about the expert or specialist roles that you have in the business - and the part they play in your overall business success. They may not be management roles, but may leave a gap in capability if vacant.
Review the business strategy – and make sure you know what is needed
Gather together any business strategy documents, reports and presentations and understand the key elements for the delivery of the strategy in the coming years. Do any departments, teams or roles stand out when you consider what the company is prioritising in the near future? This may identify skills or role gaps which the organisation needs to fill and then subsequently create succession plans for, but looking at the strategic priorities is a good way to identify critical positions, skills and functions.
Survey the market
Ask yourself: are there any professions, skills or specialisms which are in short supply at the moment? Which positions are you currently finding it hard to fill due to a lack of available external talent? Which positions are difficult to fill generally – either externally or internally?
Examining the current supply of talent to your industry – and even from outside it – is a useful way of highlighting those roles which create a recruitment nightmare if they became vacant.
Look at present L&D demands
What are the skills more frequently addressed than others in L&D? Are these critical or base skills? If they are critical skills, where do they feature in an organisation and does that imply a critical role? See if you can find a Consolidated Development Goals Analytic in your performance review software. This will show you the most commonly developed areas - and where in the organisation these gaps reside.

Check the org chart is up to date
May sound obvious but org charts are not always up-to-date - and they may not always make sense - but if you have a workable organisation chart this will help flag the critical posts. Are there roles at which multiple reporting lines converge? What dependencies are there on the roles shown? Are there lots of dotted lines which might indicate subject-matter expertise, professional leadership or critical project management? A practical tip. Cover a role up and ask yourself what the impact on performance and strategy delivery would be if this role was left vacant for more than a couple of weeks.
Spot skill combinations
Finally, once you believe you know which roles are critical, take a look at the skills deployed in those skills and look for common combinations across these roles. Then see if you can find other roles or even people that have the same combination.
Once you have identified your critical positions, you will want to add these to your succession plan.
Perhaps now is the time to look at the cloud-based succession software that is available to support you as you start to focus in on these critical roles.
You may like to read more about how to introduce succession planning. And, if you want to read further, request our eBook – The Ultimate Guide to Succession Planning.
When you're ready to talk about how we could support your succession plan strategy and the approach you choose to adopt - or just to see some succession planning examples, do get it touch.