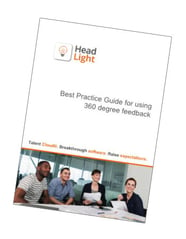 360 degree feedback can give businesses powerful information to help give valuable insights into the development needs of your people and identify high potential and future leaders as part of your succession planning and promotion strategies.
But how do you implement a successful 360 degree feedback review? Or if you're already running a 360 feedback review, how do you know if it's working for you? Are you getting high quality feedback from reviewers? Are action and development plans being implemented following the review? Is there buy-in across the organisation including those at the top? Is there more you could be doing to increase what you get from your 360 programme? We've collated a bumper guide of best practices in 360 degree feedback looking at these questions and more.
We've combined best practices shared by our customers in our Talent User Group with our own experiences as both implementers of 360 for our clients, and as feedback providers ourselves, into a Good Practice Guide for 360 degree feedback.
Have a look at the first section of the Good Practice Guide to be introduced to the following fundamentals:
What is 360 degree feedback – and the benefits of a great 360 programme
How to build the case for 360 and how to get buy-in from stakeholders
How to get started by choosing the focus of your 360 review
If you want to delve a little deeper you can go onto read the complete Good Practice Guide to 360 Degree Feedback which gives best practice tips and insights into the entire 360 review process including:
What to look for in an online 360 system to make sure it is right for your organisation
How to design your 360 questionnaire to be relevant and easy to use
Preparing the participants, reviewers and line managers for the 360 degree feedback process
How to get the highest response rate you can, with the best quality feedback and ensuring consistency and fairness between the facilitators
Analysing the feedback ready for the review session
Tips on how to prepare for (and manage) the review session – for both the facilitator and the participant – and things to look out for
How to take action as a follow on to the review session and translate the actions into a development plan
Using 360 to support other activities such as supporting difficult conversations or in supporting performance succession planning or promotion
There is so much best practice we can share to help you get started and get the most out of the 360 review process so let's start the conversation.