Head Light has been recognised by Fosway Group, Europe's #1 HR industry analyst, as a Solid Performer in the talent and people success arena.
"We are proud to be recognised by Fosway in this way. We have served our customers for over 15 years and our talent management platform continues to evolve. Many of our clients are long-standing, working with us as their own talent challenges and needs develop." comments Ian Lee-Emery, CEO and Founder of Head Light.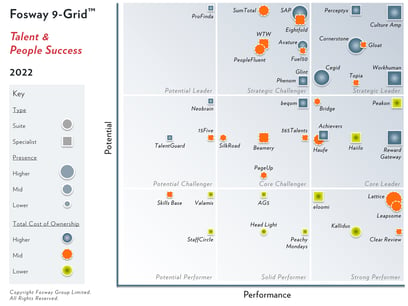 Head Light's Talent Cloud® system delivers a robust, modular platform for organisations to build over time as their needs shift. It includes the innovative and extensive Talent 360 product, a market-leading performance review module as well as employee-centred skills and career progression management tools.
Ian Lee-Emery continues: "Organisations and HR leaders in the UK are facing a turbulent time. A tight labour market, employee reconsideration of career and career progression, a greater importance of organisational succession planning and the need to retain and reskill the workforce all require HR leaders to have the most reliable talent management platform in place to support them."
"Fosway research shows that increasing performance in the current market is a significant challenge for HR teams," said David Wilson, CEO, Fosway Group. "Head Light's position as a Solid Performer on the 2022 Fosway 9-Grid™ for Talent & People Success reflects the company's focus on providing a rounded suite of talent and performance capabilities to drive organisational success."
About the Fosway 9-GridTM
Fosway Group is Europe's #1 HR Industry Analyst. The Fosway 9-Grid™ provides a unique assessment of the principal learning and talent supply options available to organisations in EMEA. The analysis is based on extensive independent research and insights from the Fosway's Corporate Research Network of over 250 customer organisations.
Visit the Fosway website at https://www.fosway.com/9-grid/ for more information on Fosway Group's 9-Grid™.