Introducing talent management software for performance management clearly offers efficiencies – but time savings are not as great as one may expect.
The real benefits of performance appraisal come from a better use of that time, more focused conversations, better goal alignment, more objectives met and so on.
We set out to quantify the return on investment that can be expected after the introducing effective performance management processes and reviews.
Underpinning our ROI Model are 3 facts, 1 KPI and 1 Truth.
Fact 1 – All organisations create some form of quantifiable value or output through its activities. This is a universal fact, whether the organisation is private or in the public sector, whether it supplies services or products.
Fact 2 – All organisations are not the same. They are staffed and managed differently, their overheads and pay are structured differently and they're based in different locations. All these factors impact any ROI calculation.
Fact 3 – All Organisations are organised into teams of people and it is through these teams that performance of the organisation is achieved – and teams are led by managers or leaders.
The Key Performance Indicator is this. We need to look at the Net Production as a measure. That is the difference between what people contribute to the organisation in output versus what they cost to employ.
And the Truth? That HR practitioners must believe that the actions that they take and that they ask of others has a positive impact on the organisation. But how much impact?
With these points taken as read, and gathering some of the easily available stats, you can start to look at the ROI that you can get in your organisation from your performance management activities.
So, gather together:
The annual revenue, or operating budget
The number of managers in your organisation
The average employee salary
The number of employees
The average manager salary
And then look at the costs of employment - the salary, benefits and the overheads included – and then the performance management process that you have in place at the moment. And then think about what difference you would expect to see from making some tweaks to that process – 1%, 5%, 10% more?
With all that in place, you're now ready to talk to us about working through your specific ROI calculation.
You can see (and hear) a worked example of this in our webcast.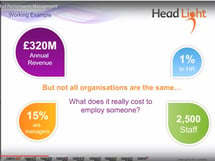 Watch it now – and then get in touch to work through your possible ROI.
Learn more about how to transition to continuous performance management.