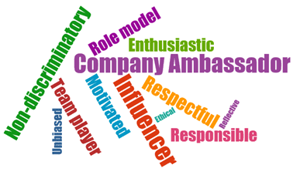 The latest release of Talent 360 includes an innovative, strengths-based presentation of 360-degree feedback results, using a 'word cloud'.
This word cloud is the latest development in Head Light's drive to make 360 review results more meaningful to and instantly accessible by participants.
Founder and CEO, Ian Lee-Emery says, "Positive psychology research and theory tells us that we are likely to get more from playing to our strengths than just trying to 'fix' our weaknesses. It can be too easy to focus in on the areas of development highlighted in a 360 feedback session and overlook the very positive feedback that a participant has been given."
The word cloud makes 360 review results instantly accessible, meaningful and actionable by those taking part in 360-degree feedback programmes.
Ian continues, "Our latest analytic takes a strengths-based approach and further develops the insights from our four-box grid that we call PAPU-NANU. The software takes the strengths identified and highlighted in the 360 participant's report and builds an additional visual representation of them. This is our own, unique approach to curating and organising the feedback from those providing feedback. We trialled this with our User Group and they loved it!"
The new word cloud functionality comes as standard within the Talent 360 system and all users are able to access this following the latest upgrade.
Ian Lee-Emery concludes, "This is yet another example of how we are moving 360 software forward and re-emphasises that all 360 degree feedback systems are simply not the same.
Talent Cloud® Version 8.8 is now available to all clients. For more information or to see for yourself how Talent Cloud® works, do get in touch with us.