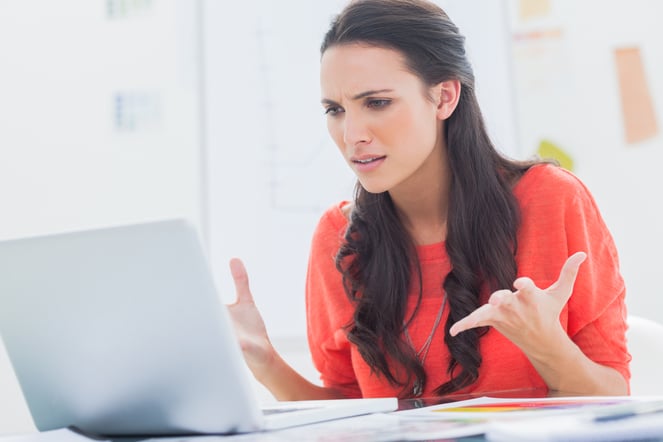 360-degree feedback has supported personal development for decades – and has become increasingly widely used.
The problem can be that, despite all the advances in technology filtering into the 360 experience, some 360 platform providers only see 360 in tech terms - and not as the critical HR and L&D tool that it is to bring about behavioural change.
Here are the warning signs.
If you're nodding in agreement to any of the signs below, then you need to take action now and start to look elsewhere for your 360 reviews; you owe it to yourselves - and your people.
1.
The support just isn't there when you need it
When you've rolled out a 360 programme, encouraged your employees to embrace the approach and made sure everyone knows how to get the most from the reviews, it is more than a stumbling block to find that, when there are technical issues that need sorting, the support you thought you would get from your supplier just isn't what you envisioned.
Emails and helpdesk tickets may go unanswered - and you need a response now to give to your team. It simply doesn't cut it to wait for a day or so to get a response.
How can you support your people if your vendor isn't supporting you?
We know that timely support is so important for the success and sustainability of a 360 programme.
A first port of call for our clients is our Knowledge Bank. If the answer is not there, we make sure that any support tickets to our Helpdesk are answered within an hour, often sooner – and not by an anonymous call centre assistant who barely knows the system, but by an experienced member of either our on-boarding or second line support teams; people you may have already worked with!
It means you get to hear from someone who knows the system inside out and how you're using it. If they cannot sort the query out then and there, they'll escalate, all the while keeping you updated.
We are committed to our service and response levels and build these into our Service Level Agreement with every customer.
And we are proud of our support. 99% of support calls are satisfied within one working day and, excluding planned maintenance, system availability has been 100% over for over two years.
Support though is not only about the technical support. You will want to know that your platform provider can guide you with good practice and has the depth of experience to share with you how best to get the most from your 360s.
2. You cannot customise your system yourself to make it your own
It's obvious that no two 360 implementations are the same, not even within the same organisation. And yet, why can it be so difficult to configure a platform that fits with your process, your language, your reporting structure, your skills and competencies and your workflow?
Some platform providers pay only lip service to customisation - bolting down much of the content or process so that it simply cannot be changed without incurring additional IT development fees - if at all.
We come from a different place.
We make as much as we can configurable – by you.
We'll show you how. We'll take you through it. We'll be there if you forget.
But we'll make sure at the 'set-up' stage that you have a configured platform that is going to do what you need it to do. And when you need to alter what you have done, or introduce something new, you can make the changes yourself – knowing we are there if you need us.
Organisations and teams are not static; why should a 360 system be?
3. The 360 platform and the analytics you have are more akin to a survey – not a 360
360-degree feedback is not a 'survey'. Why then do some 360 platform providers run a 360 like it is – and provide a superficial analysis that looks like survey results – lots of data, no insights?
To us, it's clear that such tools are using generic survey functionality instead of a specifically-developed 360 platform that has been designed by experts with experience of running 360-degree feedback projects.
The results you can access have no depth. You can't carry out a skills gap analysis, or produce a heatmap of development focus, or present individual results in multiple ways. It's impossible to see at a glance how individuals are performing against the key behaviours - and you can't benchmark their scores.
Talent 360 has been developed, refined - and continues to be enhanced - based on the desire to create a 360 experience that would be of immense value to the individual, the line manager and the L&D leader.
We always return to the fundamental utility of the platform and continually refine this based on what is important to the people running using the platform – you.
4. You cannot access any expert services such as coaching, feedback facilitation, team development, data analytics or group reporting
Getting the most from 360 usage is more than having a stable, technical platform.
There are times that you will want to learn about changing good practice, what others are doing, what is new in the world of 360 reviews and how you can improve on what you are already doing. No IT platform provider will be able to offer you the support you need for this.
You will want to learn from those who have deployed 360 across all company sizes and industries, used 360 in scores of organisations and with hundreds of people.
For our customers, our business psychology team offer the support required when they need a 360 questionnaire reviewed – or want guidance on how to improve their roll-out communications plan.
We have experienced feedback facilitators who know how to bring about behavioural change, how to have really great conversations about personal development planning and who can drive the return on investment in a 360 process. We can train your people to have these conversations, or talk through feedback with senior leaders, when a neutral, external expert might be preferred.
You might want to track changes over time, trends and themes within your 360 data, evaluate the impact of development programmes or look at differences between groups as part of your commitment to equality, diversity and inclusion. Perhaps you are interested in analysing the shared strengths and common development needs of specific teams or parts of your business? Would it be valuable to look at your top team as a group, to help them identify ways of working more effectively as a committee and potential risk areas for them as a leadership team?
Can your supplier support you in all this? Is your system accessible and flexible enough to enable you to do these things, with support from experts if required?
5. There are no real innovations that improve 360: the focus is on the tech
When a talent software provider heralds the arrival of a new user interface and talks only of speed and data storage, you know that 360 is not at the heart of what they do.
For us, the technology is certainly key – but as an enabler to getting the best 360 experience.
More fundamental are the 360 tool specific developments.
Take, as one example, the development of our PAPU-NANU report analytic. In one easy-to-understand view, the 360 participant can see where their agreed strengths are and development needs, but also the hidden talents they have but are not yet showing to others.
And then there are our 'Keys and Eyes' lenses: enabling you to identify and tag the most important of the competencies and skills you are asking raters to review. You can also emphasise the responses from key groups, directing attention to the feedback that is likely to be most insightful and helpful.
And our 360 heatmap, that highlights areas of specific development in a specific employee group.
Or our Word Cloud that showcases the most strongly rated behaviours by those who provide feedback.
The list continues.
Our 360 enhancements often come from ideas our users suggest. They know how the use of 360 is changing and what they need from it - and we know how we can make this work in the software.
As we develop an extra feature, every customer gets a software update, free of charge, and often three times a year. Everyone benefits from the suggestions made by even a few.
6. It's difficult for administrators to keep reviews on track through the dashboards
With all the advances in technology, one would think that keeping track of reviews should be an easy task.
And yet. it doesn't seem to be.
We hear that for some 360 platforms, administrators of 360 programmes find it hard to keep track of the status of different reviews.

For us, this is fundamental.
If any of these points reflect how you are viewing 360 in your organisation, why not have a call with us, just to see what other 360 platforms can do?