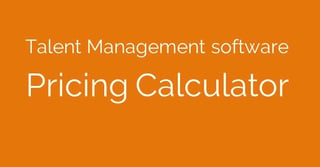 "What's the real cost of Talent Management software?"
It's a question always asked by HR and Talent decision makers - regardless of the size of the organisation, or the size of the budget.
And there's a straightforward way to answer that using our Talent Management Pricing Calculator.
It's taken as read that putting in place a talent management strategy in which your people management activities all link with each other and provide accurate real-time information for managers, employees and HR alike, brings about a real shift in how people view their own work, their development and their future with the business.
But when it comes to taking action and introducing such a system, reticence can kick in for those less bold.
They're faced with a number of challenges.
For starters, they don't know - and it's hard calculate - the cost of doing this. There's the obvious software costs but also the internal costs of choosing a supplier, learning a new system, setting up employees on the system, managing the roll-out, trouble-shooting issues, analysing and making use of the data....the list goes on.
It can be overwhelming. And, even when it's clear it's the right thing to do for both employees and the business, they fall at this first hurdle and so progressing with an integrated talent management system, moves to the 'not at the moment' list.
The solution is simple and straightforward.
Choose an online talent management system that combines all the essentials of performance review or appraisal, 360, succession planning and engagement - and outsource its management, and therefore almost eliminate the hidden, difficult-to-quantify internal costs.
And that's exactly what we do for those of our clients who want the value gained from having a talent management system - but not the hassle of having to do it all themselves.
We have three entry software and service packages - all of which can be adjusted based on specific organisational needs: perhaps they need more 360 reviews, or additional performance appraisal updates or functionality?
And once they know that, and the number of employees they want to access the system, they can budget accurately. And that's because we include in our pricing of these packages the management of the system, the upload of employee details, and the inclusion of the workflow. In fact, all the admin and technical know-how that's needed.
It means that our clients know the costs they need to budget for. They don't need to think about any internal hidden costs - other than being a hero and sharing the great information they get back with the wider company!
So, back to the question, What's the cost of Talent Management software?
Answer if for yourself using our Talent Management Pricing Calculator.
Play around with the calculator, see the price and when you're ready to take action, get in touch.