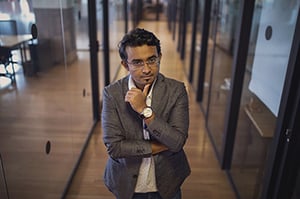 Succession Planning is a cornerstone of talent management. It ensures that you have the right people in the right place at the right time.
For some organisations, their succession planning model is focused on leadership and senior positions, whereas other businesses take a more inclusive view and include a broader range of key roles.
Regardless of the model you are adopting, how do you know if you are ready to begin?
We've developed a simple succession planning tool or succession planning framework to help you assess your organisation's current readiness for succession planning – and to prioritise your next steps.
There are five key sections included and these signpost the areas to consider.
The availability of key role definitions – Do you have these in place – and, are career paths mapped out and publicised? Who is responsible for identifying high potential? Is succession planning well-regarded in the organisation?
Your Competency Framework – How do you define the key competencies for key roles and how are they written? How often do you review the competencies with regard to business strategy?
Your Assessment Strategy – Think about how you might identify those with high potential. Do you know what are the early markers of potential?
Development Planning in your organisation – What do you offer, commit to and undertake in terms of your development of talent? Do you have the capability for follow up and monitoring in place? Are you committed to developing your key talent?
Your commitment to succession planning in your organisation – Have the relevant stakeholders bought into the and engaged with the succession planning strategy and process?
Our Readiness Tool is freely available.
It encourages you to rate your organisation on a number of statements using a simple traffic light system. The statements are descriptions of what organisations which are highly effective at talent management do – or have in place. You're then asked to consider the evidence or metrics that you have to support your rating. Finally, you are able to review this analysis with your key stakeholders.
How will your organisation rate? Find out now.
Once you've carried out this 'audit', take a look at the results. Are there any quick wins? That is, are there areas of strength on which you can build? What would you need to do to switch some of the amber lights to green?
The positive outcomes and benefits of talent succession planning are clear. Perhaps now is the time to look at the cloud-based succession software that is available to support you?
You may like to read more about how to introduce succession planning. And, if you want to read further, request our eBook – The Ultimate Guide to Succession Planning.
When you're ready to talk about how we could support you to think about your succession plan strategy - or you just want to see some succession planning examples, do get it touch.