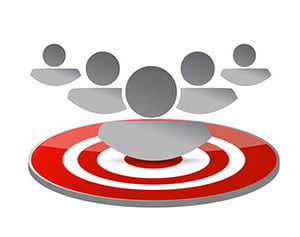 Effective talent succession planning requires commitment and investment of time energy. But, get it right and the positive outcomes of succession planning are clear:
minimised business risk,

career paths for key talent and

being able to, confidently, answer the tricky talent questions often asked in a talent report.
The importance of succession planning to organisations is obvious. By deciding to implement effective, structured and a formal succession planning in their organisations, our customers have been able to:
Benefit #1 - Identify talent around the organisation ready for the next move thanks to increased visibility
Corporate succession planning gives a line of sight of those capable to move into a new role. Depending on the succession planning template used, and the way in which you identify those with high potential, you will find those with the right experience, capabilities, competencies or mobility to progress.
Benefit #2 - Minimise business risk - and highlight succession risk - by knowing where the gaps and limitations are
Our customers now have a better understanding which of the most critical roles have successors in place and those which are at risk entirely because of there is no identified successor. With a succession plan in place, when a leader or person in a critical role decides to move on, you can turn to the successor - or successors - that you know are ready to move into that role. It provides continuity (regardless of how he or she then leads) - and minimises disruption.
Benefit #3 - Have more accurate plans for the future - and greater confidence that your data is up to date and relevant
Traditionally the succession planning process has been carried out on spreadsheets. Spreadsheets sent around to managers, collated (sometimes!) by a central team and rarely answer the key talent questions asked by the senior team. Because of the time taken to work through this process, it's not done too often, and isn't easily updated.
Benefit #4 - Uncover those with high potential that you hadn't yet considered
By re-defining high potential and re-thinking how this is identified, you may be able to open your eyes to people you had not previously thought of as high potential. You may unearth some hidden gems! Talent succession planning software can help in this.
Benefit #5 - Be able to answer those tricky succession planning questions asked of you
Supported by succession planning software that can cut and analyse the data however you wish, you will be able to complete your talent report, identify successors and answer succession related questions at the touch of a button.
Benefit #6 - Reduce the risk of losing key talent
With high potentials identified and brought together in a virtual talent pool, succession software is able to track and monitor their progress – and their flight risk. It means that you'll be able to understand those who are ready for their next step or who may be thinking of leaving the organisation as progression is too slow.
Benefit #7 - Engage with (and demonstrate) career progression to high potentials
Without an effective succession plan in place and communicated, key talent and high potentials may feel that there is little planned future for them within the organisation. With no mechanism in place to identify these high potentials - or indeed the critical roles that need successors - the engagement about career progression has little substance. With succession plans in place, you know you can identify the people essential to retain and progress and include them within a talent pool. The next step in your talent management, may be to look at career path mapping software!
Benefit #8 - See the skills gaps and be able to target development activities
Knowing the competencies and skills needed of the critical roles - and understanding the talent profiles of those in your talent pool - will highlight to you the areas of skills gaps. You will be able to determine the development required - or the exposure to specific situations needed - for those in the talent pool. With this information personal development planning becomes more focused and business driven.
Benefit #9 - Reduce external hiring spend
By growing you own talent, less time and money spent on external search is needed. Instead, focus is on the development of key talent in your business.
Are you ready to take the next step and see how to introduce succession planning?
When you're ready to take the next steps and want to talk it through - or just to look at some succession planning examples - then do get in touch.