"What's the real cost of Talent Management software?"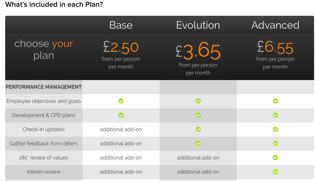 It's a question always asked by HR and Talent decision makers - regardless of the size of the organisation, or the size of the budget.
And there's a straightforward way to answer that using our Talent Management Pricing Calculator.
It's taken as read that putting in place a talent management strategy in which your people management activities all link with each other and provide accurate real-time information for managers, employees and HR alike, brings about a real shift in how people view their own work, their development and their future with the business.
For many, just the terms 'talent management software' implies expensive, complex software only suited to larger organisations.
We have three entry software and service packages - all of which can be adjusted based on specific organisational needs: perhaps they need more 360 reviews, or additional performance appraisal updates or functionality?
Choose what most closely meets your needs today, and how many people will use it and you can get a fixed priced and all-inclusive quote instantly via e-mail. We include in our pricing of these packages the management of the system, the upload of employee details, and the inclusion of the workflow. In fact, all the admin and technical know-how that's needed.
It means that our clients know the costs they need to budget for. They don't need to think about any internal hidden costs - other than being a hero and sharing the great information they get back with the wider company!
So, back to the question, What's the cost of Talent Management software?
Answer if for yourself using our Talent Management Pricing Calculator.
Play around with the calculator, see the price and when you're ready to take action, get in touch.