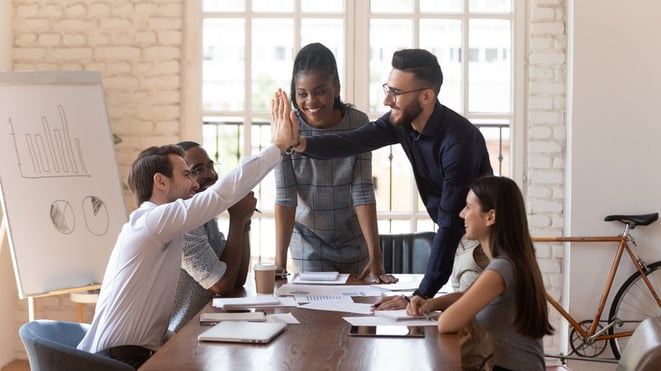 Anyone who has sought to improve their fitness, trained to run a marathon, cycled from London to Brighton or gone from 'Couch to 5k' is likely to have experienced the boost that recognition from fellow athletes can provide.
In the workplace, that recognition from peers and colleagues can be equally valuable.
We know from psychology models such as David Rock's SCARF, Gallup's Q12, Seligman's Virtues and Strengths and Dan Pink's AMP (Autonomy, Mastery and Purpose) that acknowledgement of the things we do well, for what we excel at and what people value in us, has a critical part to play in how motivated and engaged we feel. It can help us to do more of what's working for us, can spur us on to do even better, to give ourselves some credit and generally feel better about our experience of work.
Giving people 'kudos' can help us to feel more important, to feel more connected to our colleagues or to recognise the progress we have made. Yet, we often find that employees report a need for increased recognition, a greater focus on strengths and more positive reinforcement in the workplace.
With hybrid working, the opportunities to drop by a colleague's desk to thank them for doing something awesome, for a quick high-five at the coffee point/water cooler, or a thumbs up over the partition, have somewhat diminished.
We need to write the practice of gratitude and positive feedback into our new ways of working.
Where does there term 'Kudos' come from?
With its roots in the Greek word for 'glory' or 'fame', the contemporary use of the word kudos comes from a slang term which was popular at British universities in the 18th and 19th century. Here it referred to the renown or prestige that someone would get from doing something of note and in 1831 the word found its way into the Oxford English Dictionary, as a word to mark exceptional achievement. It wasn't until the 1920s, however, that we saw 'kudos' enter into wider usage in American and English vocabulary, as meaning "praise given following an achievement".
Tapping into studies in the neuroscience domain (such as that summarised in Rock's SCARF model), we know that when we experience praise, appreciation and gratitude, our brains release the feel-good hormones dopamine and serotonin.
And the benefits of positive feedback don't stop on the side of the recipient – equally, the act of offering praise or expressing gratitude activates the prefrontal cortex, which is responsible for decision making, motivation and regulating your emotions, so the practice of giving recognition at work can produce a virtuous cycle which leads to improved wellbeing, satisfaction and positive psychological functioning.
So this is what's behind our idea of using kudos in our talent management software.
360-degree feedback is an excellent tool by which you can gather really comprehensive and holistic feedback – of both the reinforcing, positive and developmental, constructive kind. However, it may not always give the feedback provider the opportunity to show what they really value about the recipient, what really warrants praise and recognition.
Each reviewer is allowed a maximum number (determined by the organisation) of 'kudos thumbs up' that they can give the person being reviewed, across all of the rated questions in the 360.
The platform then adds them up when the report is built and adds a summary page showing the feedback recipient what they were given kudos for and which response group gave most.
It can also generate a 'kudos word cloud', adding another dimension to the feedback coaching conversation and helps the feedback to be 'more than just ratings from people hiding behind anonymity' – and, in some respects, be a little more human.
It's down to organisations, their culture and their desired cultural trajectory to determine what kudos means in their world, but this provides one way in which it can be easily woven into a common talent management practice.
What are you going to do in your organisation?
If you'd like to explore how kudos can feed into your 360 process, let's schedule a call and talk it through.