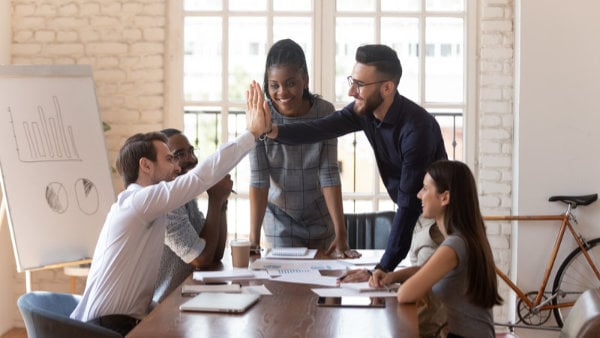 Diversity, equity and inclusion (DEI) strategies and action continue to be discussed aplenty with the recent shift in working practices acting as a catalyst.
The talent pool has widened with remote and hybrid working making geographical location less critical. The accelerated roll out of technologies has enabled collaboration across teams regardless of time zone. Many of us have embraced the opportunity to explore greater balance between work and home life, resulting in a 'stepping further into' or a 'taking a step back from' work. There has been a realisation that neurodiversity brings additional perspectives and there has been a strengthening of commitment to bring about greater equity for those with different backgrounds.

According to Gartner, 36% of HR leaders has DEI as one of their top five priorities for 2022. Korn Ferry too believes that inclusivity will remain a dominating force on the talent agenda this year, predicting a rise in workforce collaboration and empowerment "no matter your background, experience, gender or race". This focus is backed up by other studies too. In Aon's Pulse survey, 83% of HR leaders say that DEI is either 'very' or 'extremely' important to their organisation as they make sense of the future of work.
The business and people imperative
Korn Ferry has confirmed the findings of previous studies that have highlighted the positive business impact of a more diverse workforce; companies with above-average diversity report 19% higher innovation revenue.

As well as the business imperative, there is increased demand from current employees calling for greater talent diversity. PowerToFly shines a light on the shift in the employee view. Back in 2020, 62% wanted their firms to become more diverse. Now, that figure has climbed to 69%. Fifty-four percent wanted companies to offer more DEI training two years ago, and this has now jumped to 73%.

And diversity is important to job seekers too. Glassdoor reports that 76% of job seekers say that a diverse workforce is an important factor when evaluating companies and job offers and, indeed, 32% would not apply to a job at a company where there is a lack of diversity among its workforce.

But, despite increasing internal and external pressures to make demonstrable improvements in DEI, organisations fail to make real headway. Thirty-six percent of HR leaders struggle to hold business leaders accountable for DEI outcomes according to Gartner.
The challenge
If organisations want to build a more diverse workforce, they need a diverse pipeline.
Much DEI focus has been on talent acquisition and recruitment practices by attracting a more diverse talent pool, managing unconscious bias, and an increased use of technology. In essence, many firms have tried to address the imbalance by hiring in more diverse talent, particularly entry level employees.
While it moves us on, it is only a part of the solution. Gartner shows that while diverse and underrepresented talent may be being recruited, progression stalls around mid-level and senior level positions.

Organisations need to address this lack of progression.
If organisations are to meaningfully embrace DEI, then they must create and manage a diverse pipeline of future leaders who, in turn, will champion the building of a more inclusive culture that celebrates difference.
Still on the agenda
Part of the change needed is one of perspective.

Korn Ferry's latest report suggests that firms need to shift their view of DEI; no longer seeing it as a risk to be managed but as an opportunity to be embraced. They highlight that while 77% of organisations have DEI polices, only 31% have made moves to integrate DEI into business operations. Korn Ferry suggests four ways to move the dial in 2022; one of which is to build DEI into the fabric of the organisation – re-examining structures, processes and practices. For us, this must include the succession planning process.

Gartner also flags in its 2021 Leadership Progression and Diversity Survey report that a change is needed at the leadership level. It advocates introducing greater consequential accountability into leaders' roles and linking the delivery of DEI to their own progression. It means that DEI measures are included in a leader's performance evaluation to ensure the understanding of and commitment to DEI. By embracing consequential accountability, Gartner predicts that firms could reach gender parity a full 13 years earlier and racial parity 6 years earlier in their leadership benches than would otherwise be achieved.
Is a radical approach needed?
With little progress made, perhaps now is the time for a rethink of who fills executive seats and the implementation of sustained action at every level in the organisation.
Paying lip service to diversity is not enough. Monitoring demographics and reporting diversity data is not enough. We need to know how our actions are making a difference.
The blind spot is not how diverse our organisations currently are – we know that easily – but how diversity will change our organisation in the future. That is, how will we know if the actions we take now will make a difference in the future?
Here's a challenge for you. Ask yourself these questions:
"Do I know the current diversity metrics (say gender) of our current top team?"

The answer is probably a 'Yes' (or at least a 'Wait a minute, yes').
"Do I know how our top team could change in the near term – and what this would mean for our diversity metrics?"
That's a bit more difficult.



We have responded to these challenges by helping you understand how the demographics of your teams might change should you execute your succession plans and develop your talent pipelines.

Using Talent Successor (a module within our SaaS-based Talent Management platform) - and within a couple of clicks – you can compare your current diversity metrics to those when your succession plan comes into play and your identified talent has fed into the key roles.
By making this comparison, you can clearly see where increased focus and attention may be needed in order to reach those critical DEI targets.
Here are some options to help you find out more about Talent Successor:

1. Sit back and watch the Talent Successor Video (link below) - 4 minutes
2. Check out this case study from McDonald's - read time 10 minutes
3. Sign-up for our Succession Planning eBook - in sections, each 5 minutes
4. Check out this case Study from HomeServe - read time 10 minutes
5. Contact us for a demo - we'll get back to you to set up a date!
Regards
The Head Light team