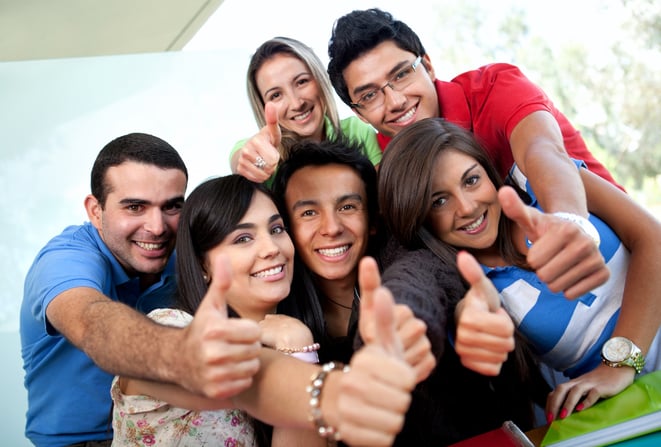 Some people seem to be naturally good at showing their appreciation of others for a job well done. For others, it may not cross their mind. And yet, workplace recognition and appreciation are becoming increasingly important.

Can your talent platform help in this?
We've written before about wellbeing and how managers and leaders can drive this further up the list of organisational priorities.
We highlighted 7 ways in which employees and managers can help enhance wellbeing within their teams.
The second of these 7 points talked about creating the right environment for open feedback, and point 7 referred to celebrating success.
Recognising contribution and success is natural for some - but not for others
Some people seem to be naturally good at showing their appreciation, in the form of direct feedback, 'thank you' emails or a quick WhatsApp. Others though may feel a little awkward or uncomfortable offering such praise, yet might be more likely to offer it anonymously. Likewise, some managers are adept at spotting those opportunities for celebrating success and others tend to overlook them.
In both cases, what can technology do? Can it help by providing a bit of a prod, some inspiration and an easy mechanism for getting the message to someone?
Recognition built into a 360 tool
In our last article we wrote specifically about how we have designed and included a new feature within our Talent 360 tool; the ability to give 'kudos' to others
We developed this to meet the need for increased recognition of individuals and their contribution. And we also see a greater focus now on strengths and the demonstration of stronger positive reinforcement in the workplace.
Our Kudos cards
With this in mind, we have created the concept of 'kudos cards', which are sort of virtual high-fives that sit within our performance management software.
They can be used to give someone instant recognition for something they have done well, for something you really appreciate, or for a talent and strength that they have used to make a difference.
So, what could we be giving kudos for?
You might just have achieved a personal best in your local ParkRun, but that probably doesn't have much bearing on your work.
We went back to the three thinkers we've cited before, and created a list of strengths, human virtues and praiseworthy attributes that someone could meaningfully be given kudos for in the workplace - and which could positively impact their motivation, engagement levels and positive emotions.
It's by no means an exhaustive list, but we think it's a good place to start:
Ambassador

Authenticity

Bringing the fun

Courage

Fairness

Friendliness

Generating ideas

Integrity

Kindness

Learning

Listening

Networker

Passion

Positivity

Problem solving

Right 1st time

Resilience

Straight-talking

Supportive

Team spirit

Technical wizardry

Values-driven
Within our Talent Performance software, these kudos cards sit within our dedicated Feedback Centre.
Our clients can take them and use them as we've created them, or customise them or develop their own. What about you? Think about the behaviours or attributes that you really want to encourage among your employees. What about your organisational values – could you create kudos cards that could give credit to those who really live them?
It's the little things that make the difference
In a world of escalating costs and tighter budgets, it's worth looking at the smaller things; things that cost little but make a big difference to the way someone feels and how motivated they are to contribute more to the team or the organisation.
A verbal "thank you" is free, but doesn't leave a digital footprint.
We often suggest to people who are struggling with their motivation levels to set up a 'Thanks and feedback' folder in their email and use it to store any message – no matter how short, long, substantial or detailed – that contains thanks or positive feedback and to read some of those things back to themself when they're having a bad day.
Kudos cards would work in the same way – an easy way of collecting, storing and accessing the things that people value you for. Which can really help to put a smile on your face.
So, what will you do in your organisation? How can you support greater recognition and help those for whom saying "thank you" doesn't come into their head although they do recognise and are grateful for the work others are doing?
If you'd like to explore how kudos cards could be used within your talent practices, let's schedule a call and talk it through.